Dog Day Care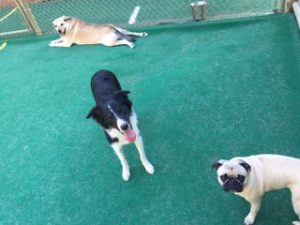 Your dog can expect a full day of exercise and attention from our professional, caring staff. A day filled with socialization and activity which alleviates negative behavior at home due to boredom or lack of exercise.
Dogs are highly social and need regular exercise to behave their best. Daycare is the best place to get all that done while you are busy. Drop them off for an hour or two, a half-day (up to 5 hours) or a full day (up to 12 hours). Once your dog has experienced the joy of daycare, you'll get to experience the joy of a happy, satisfied and loving dog.
We Offer:
Supervised play in safe, controlled indoor and outdoor play areas.
Separate areas for large and small dogs.
Qualified dog trainers on site.
Large outdoor fenced in areas for maximum playtime.
Come join the fun at our new Dog Daycare Facility!
By-the-hour : $8
1/2 Day Pass : $17 (up to 5 hours!)
Full Day Pass : $23 (up to 12 hours!)
10 x 1/2 day pack : $150 (buy 10 at once and save!)
10 x Full day pack : $190
If you would like to join our dog daycare, please give us a call to schedule an orientation with our trainers.
We have a few requirements:
dogs must be 4 months of age to join

vaccinations must be current for Rabies, Distemper and Bordetella (aka Kennel Cough)

dogs over 7 months of age must be spayed or neutered