This is a crazy time we are in, isn't it?  The world seemed to literally change overnight for all of us.  Many of our clients have been checking in on us and we appreciate the concern.  We have made many changes and, like you, we are waiting to see how this all plays out.  We miss your pets so much!  We hope to get back to our normal routine soon.  BUT…in the meantime we have come up with a way you can help us AND help your dog at the same time. Even better…it's something FUN! 
We are offering a trick training course that is completely ONLINE!  You can train your dog in the comfort of your own home. Got kids at home? Even better…get them in on the training and keep the dogs and kids busy for a while!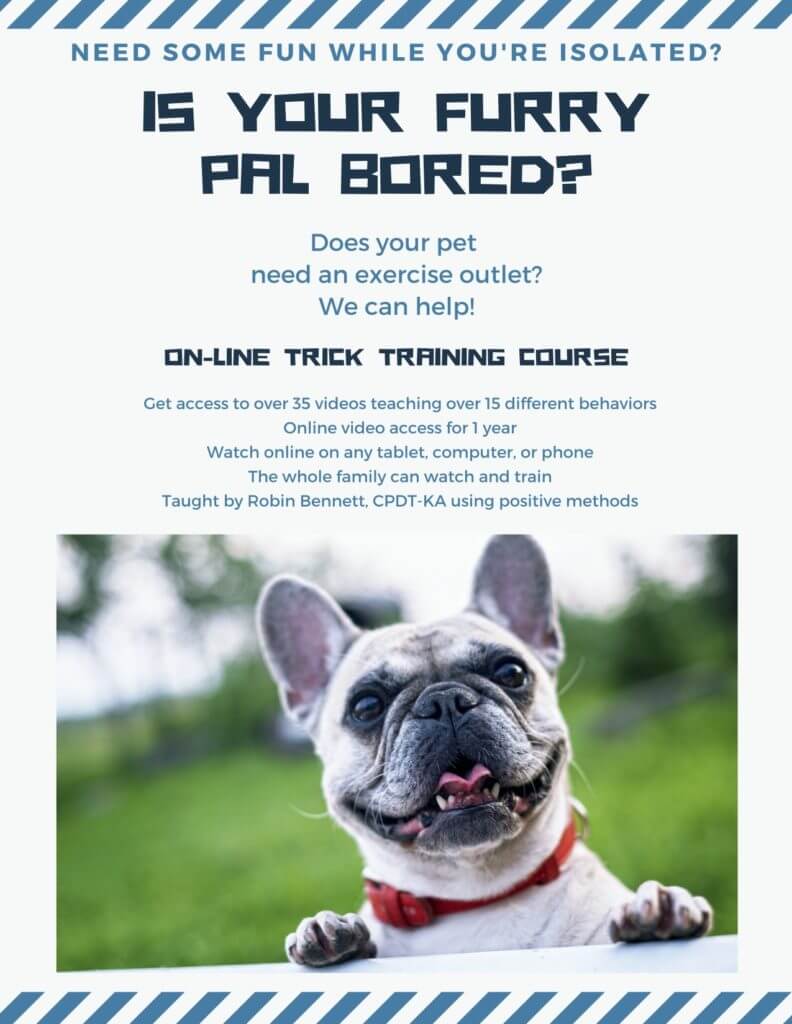 Simply register for our class and you get access to 35 videos, teaching over 15 different behaviors. Get ready to teach your dog:
The basics (sit, down, name game, stay)
Kennel up
Shake
Spin
Roll over/play dead
Go to mat
Platform training
Leave it
Drop it
Peekaboo
Muffin tin game
Ring the bell
Back up
Weave between legs
Say your prayers
Jump through arms
This course was developed and taught by Robin Bennett, CPDT-KA.  She is a professional dog trainer and a leader in positive training.  Robin was the past chair of the Association of Professional Dog Trainers and is co-founder of The Dog Gurus.  It's like having your own personal certified trainer by your side every step of the way!
You'll Get
A full year access to an online tricks course taught by Robin Bennett, CPDT-KA (a certified professional dog trainer).
All tricks taught using positive reinforcement methods
Over 35 videos teaching 15 different tricks
So, forget about the social distancing and lack of entertainment for a while. Join us in some fun training activities!
CONTEST ALERT! As a reward for our hardworking clients, we will hold a challenge this month much like our annual Halloween costume contest. Pick a trick of your choice and send us a video of you and your pup performing. We will upload it to our social media platforms and the most combined likes will receive a $50 gift certificate! Two winners will be chosen, one on April 17th and one on May 1st.  Happy Tricking!!
(Please send your videos via Facebook or Instagram message)
Sincerely,
Robin, Suzy, and the HPU team
P.S. This course makes a great gift too! If you know someone else who is home with their dog right now consider giving them a boredom buster gift!
---
Dog Training Classes
We are currently offering Private/Semi Private instruction in our facility and in your home. There will be a new session that is available for all Dog Day Care dogs who wish to receive training during day care hours.
The Types of Training Available:
Group Classes:
We are proud to offer the following group classes:
Obedience Levels & Canine Good Citizen (CGC)
Standard obedience classes are usually over a set number of weeks and once you have reached the last day, what do you do? What if walking on leash takes longer then 5 weeks to master? What if you have questions after the class ends? We've found a different way.
Obedience levels are a lot like "drop-in" classes. For each level there are a set number of spaces in each class and the class is offered every week, for as long as you need it. Can't come for 3 weeks? That's ok, you can pick up where you left off when you have time. There are 3 levels and 3 different classes. You come in for your class until you are confident to move on to the next level, you only pay for the classes when you attend.
The Level 3 class is our Canine Good Citizen prep class. The CGC Class is specialized for those dogs pursuing a service dog title or certification, it's also a wonderful way to instill the polite behaviors we all envision for our dogs. This class requires both Level 1 & 2 be passed before acceptance. Wondering if your dog is ready to join our class? Check the 10 tests for passing the CGC here.
Price is per class and ranges from $20-$30. There is a $25 registration fee to reserve your spot, registration covers all 3 levels. Class size is very limited and fills quickly. Please give us a call or send us an email for details.
We do require 24-hour notice for attendance or cancellation.
Our staff favorite! Puppy class focuses on socialization and setting the foundation for all other training. Games are used to hook your puppy on training and keep them ready to listen to your every word. Puppies leave class tired, fulfilled and eager to please you. This class tends to fill quickly so check our online registration for available space!
Group Training/Levels Classes: $25-$30 1-hour class (one-time $25 registration)

Group training is so popular and cost effective, it's where most of us go for our training. However, most of us also experience frustration during these classes because our dogs have trouble focusing on us while the class is full of other dogs. Not all dogs learn each skill at the same rate and once class is over, who do you turn to for help? Level classes address these issue. Every week Obedience Level 1-3 are offered with 4 spots for students.
Private training:
Private training gives you the most bang for your buck with training. You have the undivided attention of the trainer to focus on you and your dog only. Training tends to move faster and is more satisfying because the results are noticeable at the first session. A 2-hour consultation is required in order to gather all the information needed to create an individualized training plan that is as unique as you and your dog. Please call and speak directly with our trainers to schedule your private training.
In-line training:
This is specialized mini-training for the dogs that currently attend our daycare. At a reduced rate, your dog gets 15-30 minute training sessions while at our facility. Most in-line training is scheduled for a Saturday so your dog can focus on the training and get some play time, all while you are freed up to get your weekend warrior on!
Services & Rates:
Training Walks : $35/30-minutes
A walk with the trainer to help work on trouble spots, keep loose leash skills high or work on new skills out in the world. Owners are welcome to observe or join the walk. A quick recap of progress or trouble areas is reviewed in person or via email/text at the conclusion of each walk. You pick when the walks work best for your schedule.
Private Training: $85/1-hour (a $100 2-hour consultation is required)
Beginning with the consultation in your home, our trainers develop a plan for reaching your training goals. Almost all types of training can be covered with exception to some highly specialized training (e.g. hunting dog training, guard dog training, etc). Private training is very individualized for your own situation and dog. It is conducted around your schedule and in your own home. It's highly encouraged that everyone in your home be a part of the training.
Inline-Training/Mini-training: $10 15-minutes
An exclusive type of training for our daycare dogs. If you are seeing a troubling behavior at home or hear back from the daycare that your dog is having trouble enjoying themselves, this is an option for having our trainers work with your dog during daycare. These are quick sessions that allow us to mold and shape your dog so they can relax, have fun and get the most out of their day.
Level 1 is basic obedience which covers the behaviors Sit, Down, Stay, Look-at-Me/Watch Me, Leave-It, Loose Leash Walking and Recalls.
Level 2 is intermediate obedience and covers Loose Leash to Off-Leash Heeling, Leave-it, Drop-it, Take-it, Give, Advanced Recalls, Go-to-Spot (and stay there) as well as Polite Canine Parties.
Level 3 is advanced obedience and covers training at a distance which is highly useful as a foundation for all agility work, complex training and for having a reliable off-leash dog. Use of clickers, long leads, agility equipment as well as an introduction to complex training like backchaining (freestyle dancing is an example of backchaining, click here for a video) are all covered.
These classes have no set end date. You pay as you go, advance at your own pace and have as much access as you need to the class, the trainer and the support to meet your goals. The real advantage of this is that even if you miss a class or two, you can still pick up where you left off and not have to wait for the next class offering or pay for another full set. Call or email us for more details.
About Our Trainer
Denise Garner, our trainer, is a local native. She was born in Brunswick, grew up in Topsham and graduated from Mt Ararat in 1992. She attended SUNY Oswego for a Biology/Psychology double major. She began working professionally in the Information Technology (IT) field just outside of Washington DC in 1997. During her successful tenure for AOL, Inc. she volunteered for the Humane Society of the United States in Washington, DC. When the dot com bubble burst she left IT and traveled, eventually finding herself in San Francisco. She continued volunteering, but this time for the San Francisco Society for the Prevention of Cruelty to Animals (SF/SPCA). By 2008 she had graduated from the prestigious SF/SPCA Academy for Dog Trainers under the direct tutelage of Jean Donaldson ("The Culture Clash") and Janis Bradley ("Dogs Bite: But Balloons and Slippers are More Dangerous"). She received her Certificate in Training and Counseling (CTC) and ever since Denise has been working with shelters, grassroots dog businesses and private clients from California to Maine. She specializes in anxiety and fear-based behaviors in dogs as well as communication (dog-dog and dog-human).
Her current work is concentrating on: Themes in Dog-Dog Aggression, Shy Dogs, Fluid Social Structures in Dog Groups, Puppy Development & Social Cues, Play & Learning, Endocrinology & Neurochemistry in Dogs, TTouch Therapy for Dogs and the dynamic impact of positive reinforcement training.